Last Tuesday in London's prestigious W hotel in Leicester Square, the Simply Yours team and Gok Wan himself introduced his latest shapewear collection to bloggers and the press.
Gok has revamped his original 40′s inspired designs, tweaking it here and there to make it more fabulous than ever before, and launching it in three stunning new shades: Blush, Crush and Sweet Slate. Gok Wan's 'Wall of Fame' range consists of 6 essential shapewear lines:  the Curve Controller, Banger Booster, Pull Me In Pants, Divine Outline, Sassy Slip and, last but by no means least – the Slicker Knicker!
Gok told Lingerie Buyer:
'After three years of working on my range, this is the best collection yet.

'We've had feedback from our customers on Facebook and Twitter who have told us what works and what doesn't. We also do customer focus groups and I do live style sessions online and the thing that came back was that everyone wanted larger cup sizes. This collection has listened to the feedback we've been given from our customers, so I was actually quite nervous about this launch!

'It's quite a big collection and with it I hope to get past the idea that shapewear should be hidden.'
Image care of Oh The Places You'll Go
Gok couldn't quite resists getting his hands on Caroline and Georgina's bangers!
Image care of Fuller Figure Fuller Bust Facebook
Gok's 'Wall of Fame' shapewear collection will be available to buy from Simply Yours from March onwards, but you can still shop Gok Wan's current lingerie and shapewear collections for Simply Yours. Get it before it goes!
At Simply Be we live and breathe fashion – but we know that it's what's underneath that counts! Even the most gorgeous of outfits won't look its best unless you have the right underwear to do it justice. So we thought we'd take a look at the lingerie essentials that every woman should own. How many do you have?
T-shirt bra
Not the most glamorous of lingerie styles, but trust us, if you find your perfect fit you will want one for every day of the week! A T-shirt bra will give you a lovely smooth outline as there are no extra embellishments to interfere with the silhouette of your clothing.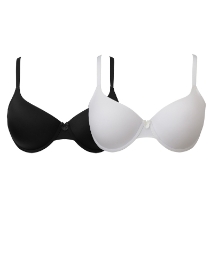 Multiway strapless bra
Next time you're shopping for a killer party dress, don't let what's in your underwear drawer restrict your choices. With a multiway strapless bra in your bra armoury (bramoury?) you'll be ready for anything. Wear strapless, halterneck, crossover back or asymmetric strap and make it work for your outfit. This bra right here is actually the world's largest strapless bra, available up to K cup – so please don't ever think that you can't go strapless if you've a bigger bust.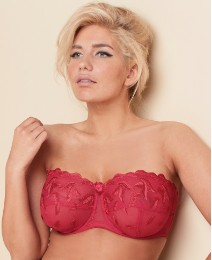 Plunge bra
For head-turning cleavage only one bra will do – it's got to be a plunge. Plunge bras are low at the front making them perfect for deep, sexy necklines, and higher at the side of the cup, pushing your breasts together slightly for a va-va-voom look!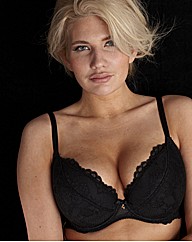 Bodyshaper
Depending on your body shape you may prefer pieces of shapewear that target specific areas, but a bodyshaper is a good all-rounder with the added advantage of giving a smooth line all over. A natural coloured one will be much more invisible under pale clothing than a white one.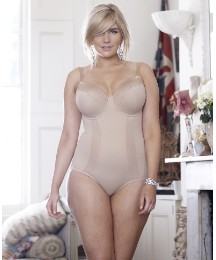 Black tights
If you're reaching for a fab dress in the morning, make sure you aren't scrabbling around for tights aren't bobbly and laddered to go with it! High denier plain black tights look chic and classy – and make your legs look fab! If it's a plain dress, why not add interest with patterned tights instead?
If you enjoyed our bra tips but would like a little more help when buying bras, why not give our bra fitters a call? They're on hand for help & advice on 0871 230 0295, Monday – Friday 9am – 8pm and Saturday – Sunday 9am – 5pm.