We don't know about you but we're suffering from football overload already! And we're also addicted to Pinterest so… when the match is on tonight, head on over to Pinterest and enter our competition!
Here's how to enter:
Here's a link to our page to follow.
And here's a link to the entry pin.
It's easy peasy!
Here's the boring bit:
Terms and Conditions
1. The promoter of this competition is Candid Collections Limited, trading as Simply Be, Griffin House, 40 Lever Street, Manchester M60 6ES. ("Promoter")
2. Each entrant taking part in this competition shall be referred to as a "Participant". Participants will be deemed to have accepted these rules and to agree to be bound by them when entering this competition.
3. The competition is only open to UK residents aged 18 years or above. Employees of the Promoters, their associated companies, their agencies associated with this competition and their immediate families are ineligible to enter.
4. To enter, Participants must do the following: Follow Simply Be UK on Pinterest, and repin the entry pin. Only one entry per person.
5. Entries must be submitted via Pinterest.
6. Entries must be submitted between 15th June 2012 and midnight on the 19th June 2012 – or as long as England remain in the Euro 2012 competition (the "Competition Period"). Entries are deemed to be received at the time of receipt into the Promoter's database. Late entries will not be accepted and the Promoters accept no responsibility for entries which are lost or corrupted during transmission.
7. The winners will be drawn randomly from the Participants. The Winners will be notified via email.
8. There will be only 1 winner.
9. The decision of the Panel is final and no correspondence will be entered into.
10. The overall winners will be decided by a random draw from the Participants.
11. THE PRIZE – one Winner will receive a pair of red coloured jeans from Simply Be subject to stock availability. If not available in your size, an alternative pair of jeans will be given subject to stock availability.
12. The Prize is not transferable and there is no cash alternative.
13. If for any reason this competition is not capable of running as planned, whether caused by infection by computer virus, mobile phone failure, line drop out, bugs, tampering, unauthorised intervention, fraud, technical failures or any other cause beyond the control of the Promoter which corrupts or affects the administration, security, fairness or integrity of the competition, the Promoter reserves the right in its sole discretion (subject to any written direction given by a relevant Regulatory Authority) to cancel, terminate, modify or suspend the competition.
14. These Terms and Conditions shall be governed by and construed in accordance with the laws of England and Wales.
We held a plus size fashion Twitter chat a little back, and if we didn't know it already, it definitely confirmed that people find jeans the hardest item of clothing to shop for.
A less-than perfect fit simply won't do when it comes to jeans, it's got to be just right! Yet people come in all different shapes and sizes (it really is a matter of genes!) making finding that perfect fit an often frustrating experience.
So at Simply Be, as well as offering jeans in sizes 14-32 and a huge choice of lengths and colours, we've developed some unique lines designed to tackle specific fitting issues. We want every woman to be able to find their perfect pair of jeans!
Fit Your Calf Jeans
Our boots in a choice of wider calf fittings are very popular, so it made perfect sense to offer jeans that are a little more generous in the calf for ladies who are fuller in that part of the leg. No need to restrict yourself to bootcut or wide leg styles any more – go for a slim leg style that shows off your shapely pins to perfection!
Available in 2 colours and 3 lengths.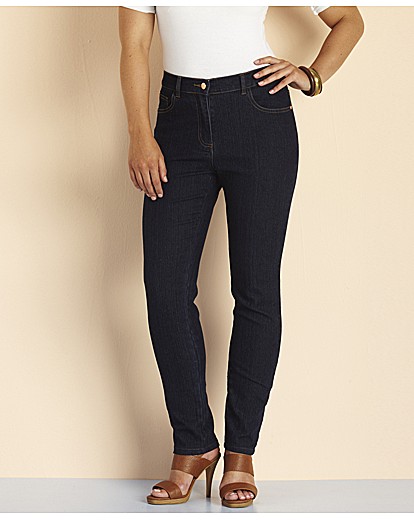 Fit Your Thigh Jeans
Likewise, many people find it hard to get jeans to fit well at their upper leg – be it because they find standard jeans too tight, or too baggy at the thigh. Enter our Fit Your Thigh Jeans! They're available in slim fit, regular fit or fuller fit to get a flawless fit for your figure.
Available in 2 colours and 2 lengths.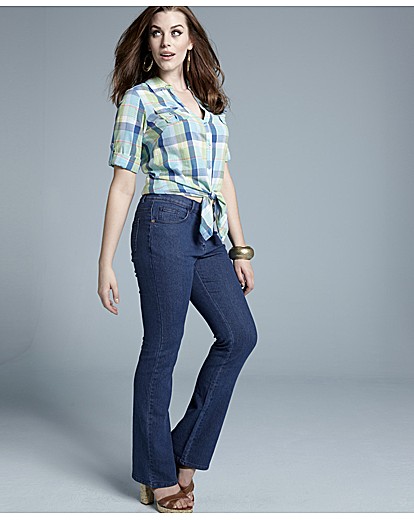 Wow Jeans
Many ladies wish their jeans would do more than just fit though – they'd like a little extra help in certain areas. Our range of Wow jeans has something to suit everyone.
Our Wow Thigh Slimmer Jeans  have cleverly curved seams and shading to make your legs looks leaner.
Our Wow Tummy Tamer Jeans have a special panel to gently hold in your tummy a touch.
And our Classic Wow Jeans have a host of special features include a non-stretch front panel to flatten your tummy, adjustable hidden elastic to pull in your back waistband and specially shaped back pockets, yoke and darts to create a perkier looking bottom.
What's more, our  classic Wow jeans are now only £20!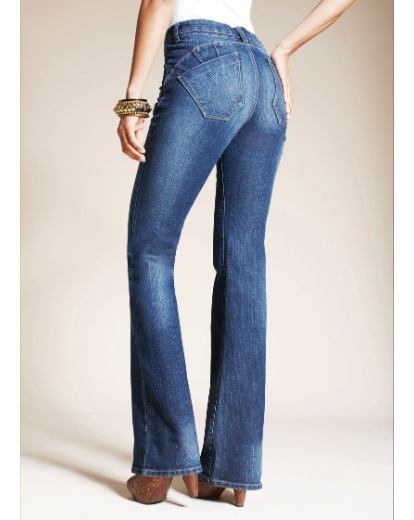 Wendy and Candice love our Wow jeans too: