March sees fashion blogger Kathryn Kaupa of Miss Kathryn's MissTakes, take to the stage, as she faces the Simply Be interview.
Kathryn looking lovely in our Bespoke shirt dress
Kathryn describes her blog as 'A blog tracking my fat acceptance journey… Lots of pretty dresses, separates and print' Now let's hand over to Kathryn…
It's Blogger of the Month time for February and this month we have the lovely Laura from What Laura Loves. A blog about fashion and beauty, Laura tells us all about where she gets her style inspiration from and what it's like being a blogger!
Here she is wearing the AX Paris Skull print tee (from previous season).
Now lets hand it over to Laura…
It's that time again for another Blogger of the Month and this November we have the pleasure of introducing you all, to the lovely Joanna of Just Joanna. 
Joanna loves all things fashion and beauty and here she is to tell us more…
How long have you been blogging?
I have been blogging for around 3 years, it took me a few years to find a blogging style I was happy with. Just Joanna is now one and a half years old .
What do you blog about?
My blog is a mix of everything; plus size fashion, nail art, shopping hauls, make up and beauty, home interior and storage posts. There really is something for everyone.
Who inspires you? / Where do you get your inspiration from, when writing your blog?
I find inspiration everywhere. I can be in a park looking at the scenery and imagine taking some great outfit posts, or flicking through magazines looking at the latest beauty and fashion products, lusting to get my hands on it to review. But my biggest inspiration comes from other bloggers. I love being surprised at how people can piece together an outfit using items I wouldn't dream of using, it makes me a little more daring with colour and prints.
Biggest achievement? (blogging/otherwise!)
Blogging wise it was meeting Zandra Rhodes, it was so surreal to be chatting about holidays and fashion with such an epic British fashion icon.
How would you describe your style?
Current, colourful and on trend.
What do you do when you're not blogging? / What would be your ideal job?
My ideal job would be a style consultant/personal shopper in a fashion store picking out the latest trends and making women feel and look great.
Which celeb style do you admire the most?
Holly Willoboobie (Holly )! Lol she mixes curves and elegance perfectly.
What do you like about Simply Be?
How long do we have here? This could take some time as I love EVERYTHING about Simply Be so I'll keep it short and simple: Simply Be make catwalk fashion trends accessible to the plus size woman and that's not easy to do.
Any favourites from the current Simply Be collection?
Bird print tunic (pictured below), and Jersey Skater tunic dress, I love how you can jazz up this skater dress with a belt or scarf, simple and chic.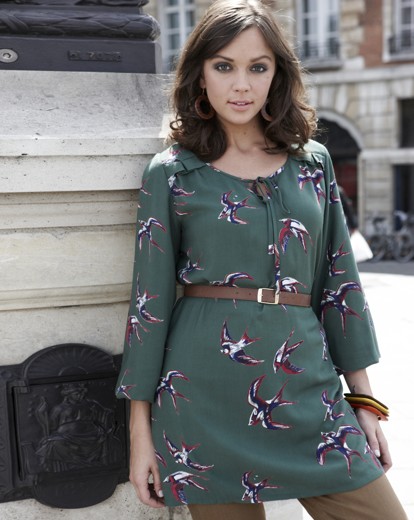 Do you have any style advice/ general words of wisdom you'd like to share with our readers?
Embrace your curves and love the skin you're in.
What's the best advice you've ever been given?
Be experimental with clothing, use tube skirts as boob tubes and pull up maxi skirts over your bust to use them as dresses
What single item could you not live without?
A pair of black leggings
Apart from your own, can your recommend any favourite style blogs or books we can add to our reading list?
Claire from Claireabelle. Love her outfits so much and she has great beauty tips.
Shoes or handbags?
HANDBAGS! Paul's Boutique in particular
We're with you on that Joanna – a good pair of black leggings is our wardrobe staple! For more from Joanna, head on over to her blog here!
Don't miss out on our next Blogger of the month, coming soon…xx